Multiskan Sky - სპექტროფოტომეტრი
Multiskan Sky Microplate Spectrophotometer is a UV/Vis microplate reader designed to be convenient and easy to use for virtually any photometric research application, especially DNA, RNA and protein analysis. This absorbance reader is ideal for multi-user environments where a variety of endpoint, kinetic and spectral assays are performed. Multiskan Sky spectrophotometers are available in three different configurations. Touchscreen models offer the flexibility to use the system as stand-alone or in conjunction with Thermo Scientific SkanIt PC software. Touchscreen models also offer option to access to Thermo Fisher Connect clould-based tools. The Multiskan Sky microplate spectrophotometer model operated solely via SkanIt software is ideal for users who rely on a PC for all operations. Cuvette reading capability is also offered in some models.
Monochromator-based optical system for free selection of wavelengths from 200 nm to 1000 nm

Compatible with 96- and 384-well microplates with and without lids or cuvettes

Reads μDrop™ Plate for micro-volume DNA/RNA and protein analysis

Performs onboard shaking and incubation for temperature-critical or cell-based assays

Allows kinetic, spectral, and endpoint measurements for a variety of spectrophotometer applications

Fast operation: full spectrum of a well is done in less than 10 seconds and a full 96-well microplate is read in 6 seconds

Touchscreen models have an easy-to-use interface for stand-alone use and includes ready-made protocols for nucleic acid and protein quantification

Setting up of demanding assays is easy via the powerful and intuitive SkanIt™ Software

Thermo Fisher Connect cloud-based tools allow you to securely store, access, share, and manage your photometric data remotely (touchscreen models)

Multiple languages available on all models; choose between English, German, French, Spanish, Italian, Portuguese, Russian, Chinese, and Japanese

Automation compatibility for integration with SkanIt Software automation interface
დამატებითი ინფორმაციისთვის იხილეთ გამოყენების ინსტრუქცია.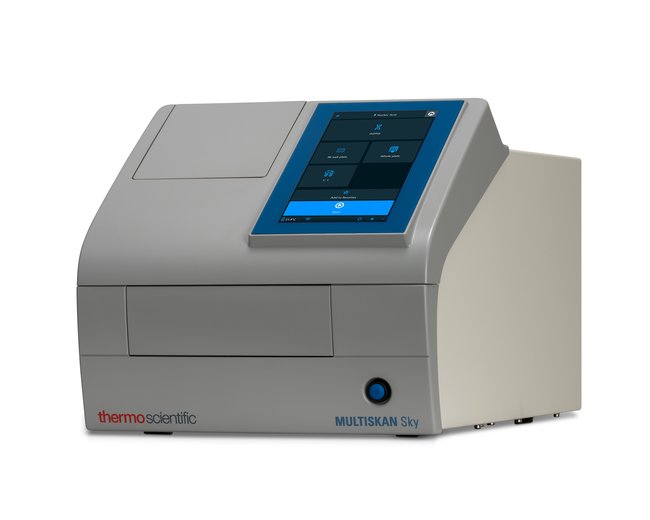 ---
| | | |
| --- | --- | --- |
| 96- and 384-well plates, µDrop Plate | | |
| | |
| --- | --- |
| Description | Multiskan Sky |
| Warranty | 1 year |
| Plate Type | 96- and 384-well formats and μDrop Plate |
| Cuvettes | No |
| Light Source | Xenon flash lamp |
| Wavelength Selection | Monochromator |
| Wavelength Range | 200-1000 nm |
| Bandwidth | < 2.5 nm |
| Photometric Linearity | 0–2.5 Abs, 2% @ 450 nm |
| Read-out Range | Up to 3 Abs |
| Resolution | 1 nm |
| Accuracy (Photometric) | 1.0% + 0.003 Abs (0–2.0 Abs), 2.0% (2.0–2.5 Abs) @ 450 nm |
| Incubator Temperature | Ambient + 2°C to 45°C |
| Shaking | Linear shaking |
| Measurement Speed | 96-well microplate: 6 seconds (fast mode)384-well microplate: 10 seconds (fast mode) |
| Spectral Scanning Speed | 10 s from 200 to 1000 nm |
| Interface | SkanIt PC software |
| Software Language Versions | English, German, French, Spanish, Italian, Portuguese, Russian, Chinese, Japanese |
| Depth (Metric) | 17.5 in. |
| Depth (English) | 44.5 cm |
| Width (Metric) | 11.6 in. |
| Width (English) | 29.5 cm |
| Height (Metric) | 10.4 in. |
| Height (English) | 26.5 cm |
| Weight (Metric) | 23.8 lbs |
| Weight (English) | 10.8 kg |
| Reading Options | 96- and 384-well plates, µDrop Plate |
| Unit Size | Each |
51119600

Multiskan Sky with touchscreen

| | |
| --- | --- |
| 96- and 384-well plates, µDrop Plate | Touchscreen display and SkanIt PC software |

| | |
| --- | --- |
| Description | Multiskan Sky with touchscreen |
| Warranty | 1 year |
| Plate Type | 96- and 384-well formats and μDrop Plate |
| Cuvettes | No |
| Light Source | Xenon flash lamp |
| Wavelength Selection | Monochromator |
| Wavelength Range | 200-1000 nm |
| Bandwidth | < 2.5 nm |
| Photometric Linearity | 0–2.5 Abs, 2% @ 450 nm |
| Read-out Range | Up to 3 Abs |
| Resolution | 1 nm |
| Accuracy (Photometric) | 1.0% + 0.003 Abs (0–2.0 Abs), 2.0% (2.0–2.5 Abs) @ 450 nm |
| Incubator Temperature | Ambient + 2°C to 45°C |
| Shaking | Linear shaking |
| Measurement Speed | 96-well microplate: 6 seconds (fast mode)384-well microplate: 10 seconds (fast mode) |
| Spectral Scanning Speed | 10 s from 200 to 1000 nm |
| Interface | Touchscreen display and SkanIt PC software |
| Software Language Versions | English, German, French, Spanish, Italian, Portuguese, Russian, Chinese, Japanese |
| Depth (Metric) | 17.5 in. |
| Depth (English) | 44.5 cm |
| Width (Metric) | 11.6 in. |
| Width (English) | 29.5 cm |
| Height (Metric) | 10.4 in. |
| Height (English) | 26.5 cm |
| Weight (Metric) | 23.8 lbs |
| Weight (English) | 10.8 kg |
| Reading Options | 96- and 384-well plates, µDrop Plate |
| Unit Size | Each |
51119600DP

Multiskan Sky with touchscreen and μDrop Plate

| | |
| --- | --- |
| 96- and 384-well plates, µDrop Plate | |

Touchscreen display and SkanIt PC software

| | |
| --- | --- |
| Description | Multiskan Sky with touchscreen and μDrop Plate |
| Warranty | 1 year |
| Plate Type | 96- and 384-well formats and μDrop Plate |
| Cuvettes | No |
| Light Source | Xenon flash lamp |
| Wavelength Selection | Monochromator |
| Wavelength Range | 200-1000 nm |
| Bandwidth | < 2.5 nm |
| Photometric Linearity | 0–2.5 Abs, 2% @ 450 nm |
| Read-out Range | Up to 3 Abs |
| Resolution | 1 nm |
| Accuracy (Photometric) | 1.0% + 0.003 Abs (0–2.0 Abs), 2.0% (2.0–2.5 Abs) @ 450 nm |
| Incubator Temperature | Ambient + 2°C to 45°C |
| Shaking | Linear shaking |
| Measurement Speed | 96-well microplate: 6 seconds (fast mode)384-well microplate: 10 seconds (fast mode) |
| Spectral Scanning Speed | 10 s from 200 to 1000 nm |
| Interface | Touchscreen display and SkanIt PC software |
| Software Language Versions | English, German, French, Spanish, Italian, Portuguese, Russian, Chinese, Japanese |
| Depth (Metric) | 17.5 in. |
| Depth (English) | 44.5 cm |
| Width (Metric) | 11.6 in. |
| Width (English) | 29.5 cm |
| Height (Metric) | 10.4 in. |
| Height (English) | 26.5 cm |
| Weight (Metric) | 23.8 lbs |
| Weight (English) | 10.8 kg |
| Includes | µDrop plate |
| Reading Options | 96- and 384-well plates, µDrop Plate |
| Unit Size | Each |
51119700

Multiskan Sky with touchscreen and cuvette

| | |
| --- | --- |
| 96- and 384-well plates, cuvette, µDrop Plate | |

| | | | |
| --- | --- | --- | --- |
| Touchscreen display and SkanIt PC software | | | |

| | |
| --- | --- |
| Description | Multiskan Sky with touchscreen and cuvette |
| Warranty | 1 year |
| Plate Type | 96- and 384-well formats and μDrop Plate |
| Cuvettes | Yes |
| Light Source | Xenon flash lamp |
| Wavelength Selection | Monochromator |
| Wavelength Range | 200-1000 nm |
| Bandwidth | < 2.5 nm |
| Photometric Linearity | 0–2.5 Abs, 2% @ 450 nm |
| Read-out Range | Up to 3 Abs |
| Resolution | 1 nm |
| Accuracy (Photometric) | 1.0% + 0.003 Abs (0–2.0 Abs), 2.0% (2.0–2.5 Abs) @ 450 nm |
| Incubator Temperature | Ambient + 2°C to 45°C |
| Shaking | Linear shaking |
| Measurement Speed | 96-well microplate: 6 seconds (fast mode)384-well microplate: 10 seconds (fast mode) |
| Spectral Scanning Speed | 10 s from 200 to 1000 nm |
| Interface | Touchscreen display and SkanIt PC software |
| Software Language Versions | English, German, French, Spanish, Italian, Portuguese, Russian, Chinese, Japanese |
| Depth (Metric) | 17.5 in. |
| Depth (English) | 44.5 cm |
| Width (Metric) | 11.6 in. |
| Width (English) | 29.5 cm |
| Height (Metric) | 10.4 in. |
| Height (English) | 26.5 cm |
| Weight (Metric) | 23.8 lbs |
| Weight (English) | 10.8 kg |
| Cuvette Size | 40-58 x 12.5 x 12.5 mm (H x W x D) |
| Reading Options | 96- and 384-well plates, cuvette, µDrop Plate |
| Unit Size | Each |
51119700DP

Multiskan Sky with touchscreen, cuvette and μDrop Plate

| | |
| --- | --- |
| 96- and 384-well plates, cuvette, µDrop Plate | |

Touchscreen display and SkanIt PC software

| | |
| --- | --- |
| Description | Multiskan Sky with touchscreen, cuvette and μDrop Plate |
| Warranty | 1 year |
| Plate Type | 96- and 384-well formats and μDrop Plate |
| Cuvettes | Yes |
| Light Source | Xenon flash lamp |
| Wavelength Selection | Monochromator |
| Wavelength Range | 200-1000 nm |
| Bandwidth | < 2.5 nm |
| Photometric Linearity | 0–2.5 Abs, 2% @ 450 nm |
| Read-out Range | Up to 3 Abs |
| Resolution | 1 nm |
| Accuracy (Photometric) | 1.0% + 0.003 Abs (0–2.0 Abs), 2.0% (2.0–2.5 Abs) @ 450 nm |
| Incubator Temperature | Ambient + 2°C to 45°C |
| Shaking | Linear shaking |
| Measurement Speed | 96-well microplate: 6 seconds (fast mode)384-well microplate: 10 seconds (fast mode) |
| Spectral Scanning Speed | 10 s from 200 to 1000 nm |
| Interface | Touchscreen display and SkanIt PC software |
| Software Language Versions | English, German, French, Spanish, Italian, Portuguese, Russian, Chinese, Japanese |
| Depth (Metric) | 17.5 in. |
| Depth (English) | 44.5 cm |
| Width (Metric) | 11.6 in. |
| Width (English) | 29.5 cm |
| Height (Metric) | 10.4 in. |
| Height (English) | 26.5 cm |
| Weight (Metric) | 23.8 lbs |
| Weight (English) | 10.8 kg |
| Includes | µDrop plate |
| Cuvette Size | 40-58 x 12.5 x 12.5 mm (H x W x D) |
| Reading Options | 96- and 384-well plates, cuvette, µDrop Plate |
| Unit Size | Each |